About us
Safety and support at sea is our DNA
Svitzer has provided safety and support at sea since 1833. Doing difficult things in difficult places is our passion and your business is at the heart of what we do. As a world leading towage operator, our 4,000 employees and our fleet of 440 vessels stand ready to meet your needs for safe and efficient marine solution services, anywhere in the world. We are a fully owned subsidiary of A.P. Moller – Maersk, operating as stand-alone towage and marine solutions partner in 32 countries across the globe.
Safety
At Svitzer, we do difficult things in difficult places and with us, every day is a safe day. The safety of people, assets and the environment where we operate, is the foundation of everything we do. Every day, we work together to ensure the integrity of ports and to provide our customers with safe, reliable and efficient services in ports and terminals across the globe. At Svitzer, Safety comes first.
Safety is a matter of protecting human lives, protecting the environment, and protecting assets, both for our customers and for ourselves. We have a responsibility to always strive to prevent incidents from happening as well as ensure we learn from those that do happen. At Svitzer, we live by these principles every day and everywhere we operate.
We were the first towage company to implement a unified safety management system that complies with OVMSA (Offshore Vessel Management and Self-Assessment). We continuously work to further develop industry standards, by actively taking part in industry forums including OCIMF (Oil Companies International).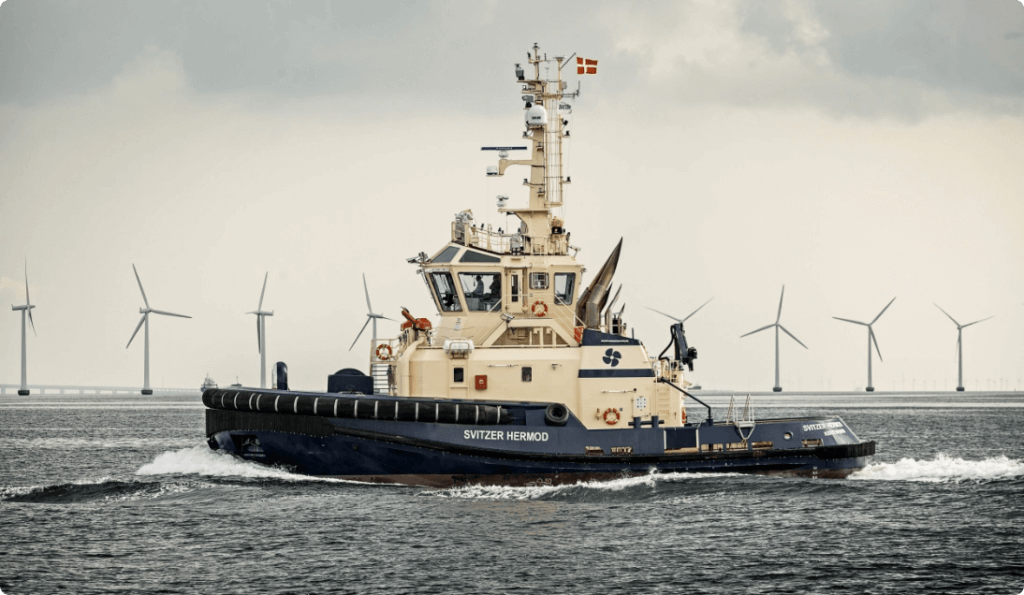 Efficiency
We understand that reliability is important to our customers. We leverage data, insights, assets and skills to provide safe, reliable and efficient towage and marine services across five continents, 30+ countries and more than 110 ports. We train our people and manage and maintain our assets to ensure we are always able to meet our customer's needs for towage and marine services in a safe, reliable and efficient manner.
At Svitzer, we are always looking at the best ways to integrate innovative technologies in both our strategy and our daily operations. We believe, that advanced technologies can further improve safety, efficiency and reliability in our operations for the benefit of our people, our customers and the environment where we operate.
Our commitment to continuous innovation includes the development of the first IMO TIER III tugs, the S65/32 (ECO), and the Diesel Electric Hybrid tugs developed for Chevron's Gorgon and Wheatstone projects.In partnership with Rolls Royce, Svitzer recently developed designs to create both the world's first remote controlled tug, the Svitzer Hermod, and the 90 TBP RAstar 2900 for the new Tanger Med Terminal (TM2) project in Morocco.
People
Svitzer is a people company. Offering uninterrupted marine solutions requires not only the best equipment but also the best people. Our ambition is to attract and continuously develop the industry's best craftsmen. Both at sea and on land – worldwide, wherever our customers do business.
We are driven by skilled, professional and dedicated people and we work together as one company to provide safe, reliable and efficient services to our customers.
We support and develop our people's skills and capabilities and we care for the development of both teams and individuals. To best serve our customers, we strive to ensure the right people and the best teams for the job, every time and we believe diversity is a strength.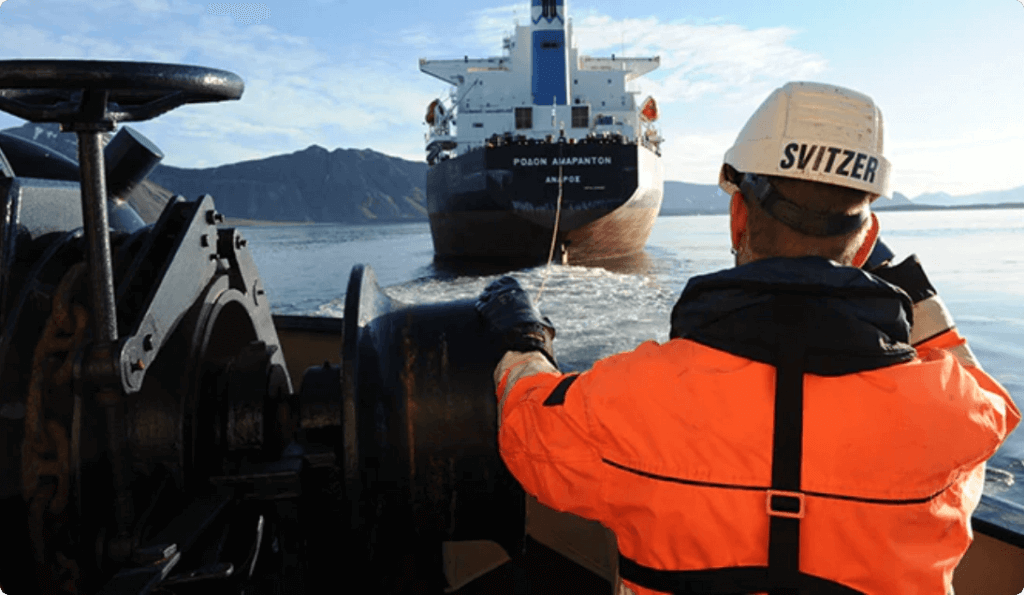 Our Global Presence
Svitzer is a leading global towage operator with multiple local operations across four regions and 30+ countries, and we make our global reach matter to our customers. We make our global presence and footprint matter to our customers locally and we commit to make a difference in the ports and communities where we operate.
From the icy waters of the Siberian coastline to the sun scorched ports of Brazil, we carry out our tasks with precision and care. Every operation has its own particular challenges that need to be addressed, and our aggregated experience is part of what makes Svitzer a reliable provider of undisrupted marine services in the industry.
We combine our strengths to leverage scale and scope of everything we do through efficient coordination of assets, crews, processes and services. By coordinating what we do and sharing knowledge and best practises globally, we enable our people in providing our customers with safe, reliable and efficient services at competitive prices locally.
190 years of towage
With 190 years of knowledge and experience, we strive every day to make port and terminal operations safer and more efficient operations around the globe.
With more than 135,000 harbour towage jobs, and over 50,000 LNG tanker assistances every year we take pride in supporting our customer's supply chain – globally, regionally and locally. As a global leader in towage and marine-related services, we employ more than 4,000 people across 30+ countries.
We are part of Maersk; an integrated container logistics company working to connect and simplify its customers' supply chains from end to end.